Mission
To protect and improve the health and well being of our community.
Vision
Healthy People, Healthy Community!
CORE Values
Communication

We strive to effectively exchange our thoughts, ideas, and feelings through a common language.
Our methods will be honest and respectful.
We will consistently consider the diverse nature within our team, the people we serve, and our community.

Optimal Health

We promote health by providing education and resources to prevent chronic and infectious disease.
We provide consistent quality care and customer focused service to meet the health and wellness goals of individuals and the community as a whole.
We support opportunities for people to be as healthy as possible.

Respect

We recognize the value of individuals by being open, honest, and polite.
We acknowledge diversity.
Everyone will be treated in a professional, courteous, and non-judgmental manner.

Excellence

The community can trust us to do what we say we will do.
We succeed by working with the community to achieve the best possible outcome.
We take pride in developing relationships, improving quality, and serving by living out our CORE Values.
---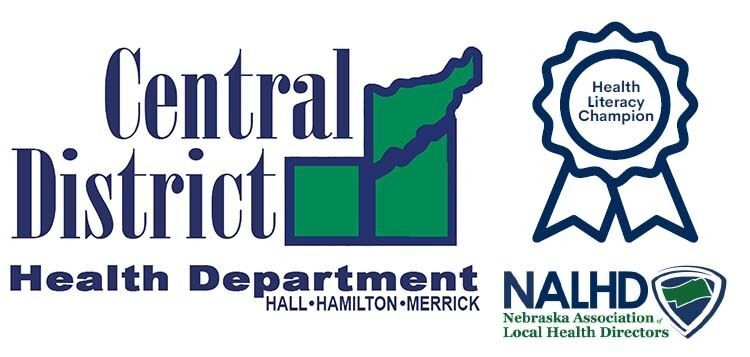 CDHD is proud to be a HEALTH LITERACY CHAMPION as recognized by the Nebraska Association of Local Health Directors.
According to the National Institution of Health, health literacy refers to how well a person can get the health information and services that they need, and how well they understand them. It is also about using them to make good health decisions.

More than 90 million adults in the United States have low health literacy. It affects their ability to make health decisions. This can harm their health. They may have trouble managing chronic diseases and leading a healthy lifestyle. They may go to the hospital more often and have poorer health overall.

Central District Health Department is a health literacy champion by the work we do with our community partners and clinic partners to increase the awareness of what health literacy is and provide tools to make written, spoken, and visual materials more health literate. For more information on health literacy contact CDHD at 308-385-5175.