Newsroom
The Central District Health Department works hard to provide the most accurate and up to date information available. If you have questions on any of the pieces presented here please contact us at (308) 385-5175. 
---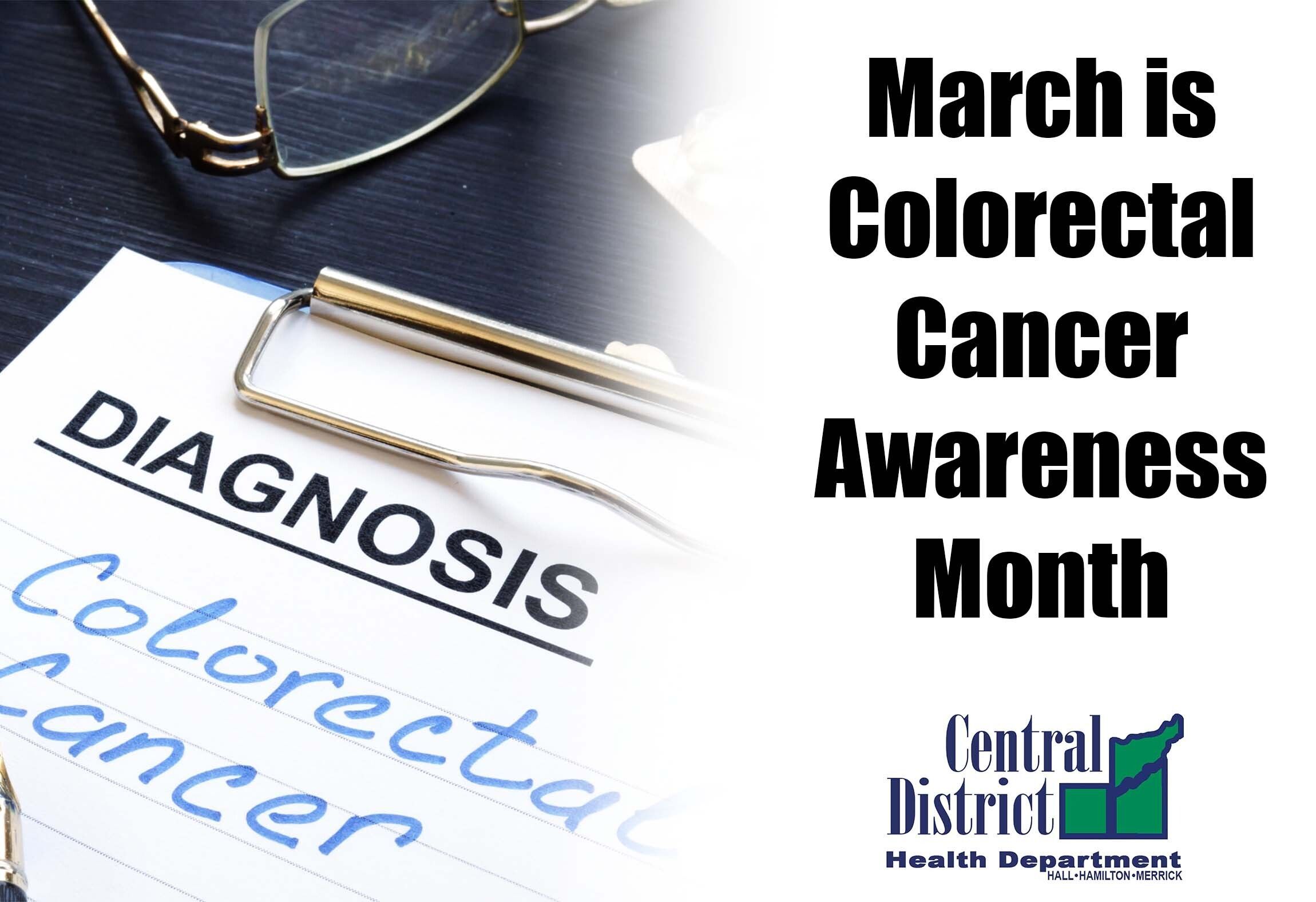 MARCH IS COLORECTAL CANCER MONTH, CDHD OFFERS FREE TESTS
Grand Island, NE – Central District Health Department has joined the annual statewide effort organized by the Nebraska Cancer Coalition to heighten awareness of lifesaving colorectal cancer screening during March, which is Colorectal Cancer Awareness month.
Colorectal cancer is the second deadliest cancer in Nebraska. Incidences of colorectal cancer diagnosis and death remain higher in Nebraska compared to overall U.S. rates. Additionally, rates of colorectal cancer have increased in recent decades among individuals younger than 50, so much so that the official recommended age for colorectal cancer screening has been reduced from 50 to 45.
In 2023, the American Cancer Society estimates 950 new colorectal cancer cases and 320 colorectal cancer deaths in Nebraska.
While a visit to a primary care physician is the best way to assess your personal risk and create a plan to screen for colorectal cancer, there are other options including at home tests. CDHD offers Fecal Immunochemical Tests (FIT) for free that can help screen for colorectal cancer. If you are 45 – 74-years-old you can pick up a free kit at the Health Department from 8 am – 5 pm Mondays – Thursdays and 8 am – 4:30 pm on Fridays. The kits are part of the Nebraska Department of Health and Human Services' Women's and Men's Health Program.
Part of the reason screening for colorectal cancer is so important is that symptoms often only show up in later stages which it's far more difficult to treat. The earlier this disease can be caught, the better your chances of treatment and recovery.
There are multiple safe, affordable options available for screening, including at-home test kits. Individuals are encouraged to contact their primary care provider to start a conversation about screening. If you would like a free screening test, please contact CDHD at (308) 385-5175 or via email at cevans@cdhd.ne.gov. You can also find more information on Colorectal Cancer rates in Nebraska at our website, www.cdhd.ne.gov.
---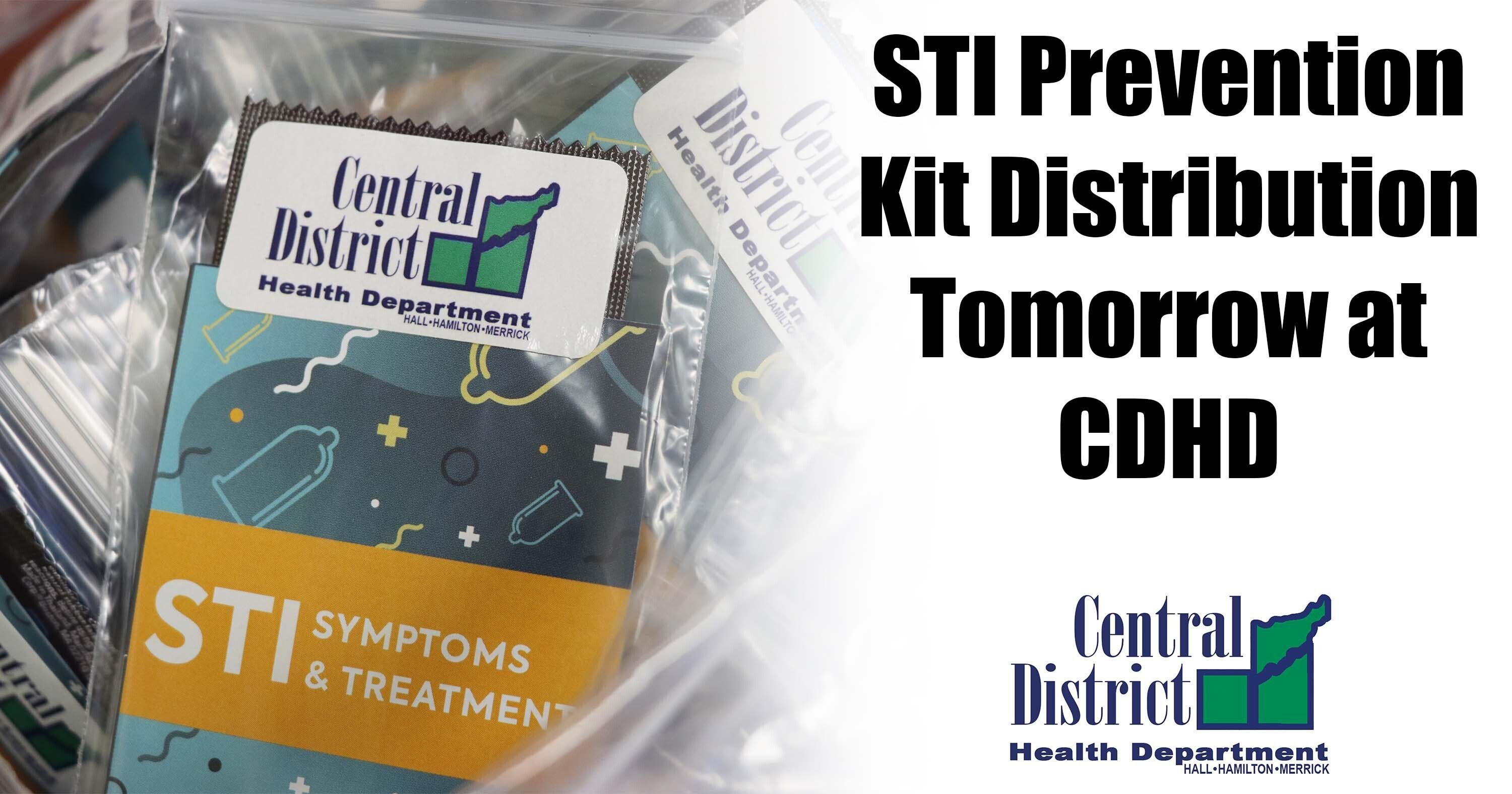 CDHD Distributing "STI Prevention Kits" on Friday
Grand Island, NE – In response to sustained high rates of Sexually Transmitted Infections (STI) across several age groups in the Central District, CDHD will be distributing free "STI Prevention Kits" from 3:30 – 4:30 pm on Friday, February 10th. The distribution will take place at our drive-through location in the parking lot of our Grand Island office at 1137 South Locust Street in Grand Island.

These kits, which are part of the Sexually Transmitted Infection Program meant to raise sexual health awareness nationally, include condoms, water-based lubricant and a pamphlet on STI prevention and testing.
This effort is a new program assigned to CDHD by the Nebraska Department of Health and Services based on our Infection Control Department's ability to follow up with STI cases. This follows a nationwide trend of increasing rates of STIs. While there is no age group who has not seen high levels of STI infections, young people need to exercise particular caution as ages 10-19 and 20-29 have seen particularly high levels of infections recently, particularly with Chlamydia.
Based on CDC research, multiple approaches are best at stopping the spread of these diseases. According to the CDC, the best way to prevent STIs are the following:
            •Abstinence, which is the "surest way to avoid" an STI.
            •Correct condom use each time you have sex.
            •Having fewer sexual partners and knowing the history of the partners you have.
            •Getting the HPV vaccine to prevent cancer from HPV later in life.
            •Talking with your partner about STIs.
STIs can feature several symptoms including, but not limited to sores or bumps on the mouth, genitals or anus, unusual discharge from sex organs, painful sex, lower abdominal pain and swollen lymph nodes. Getting tested, knowing your situation and speaking to your sexual partners about it is the best way to help stop spreading STIs. You can learn more about testing at www.cdhd.ne.gov .
There is no cost to pick up an STI Prevention Kit and it can be done anonymously. Please call (308) 385-5175 or log onto www.cdhd.ne.gov for more information.
---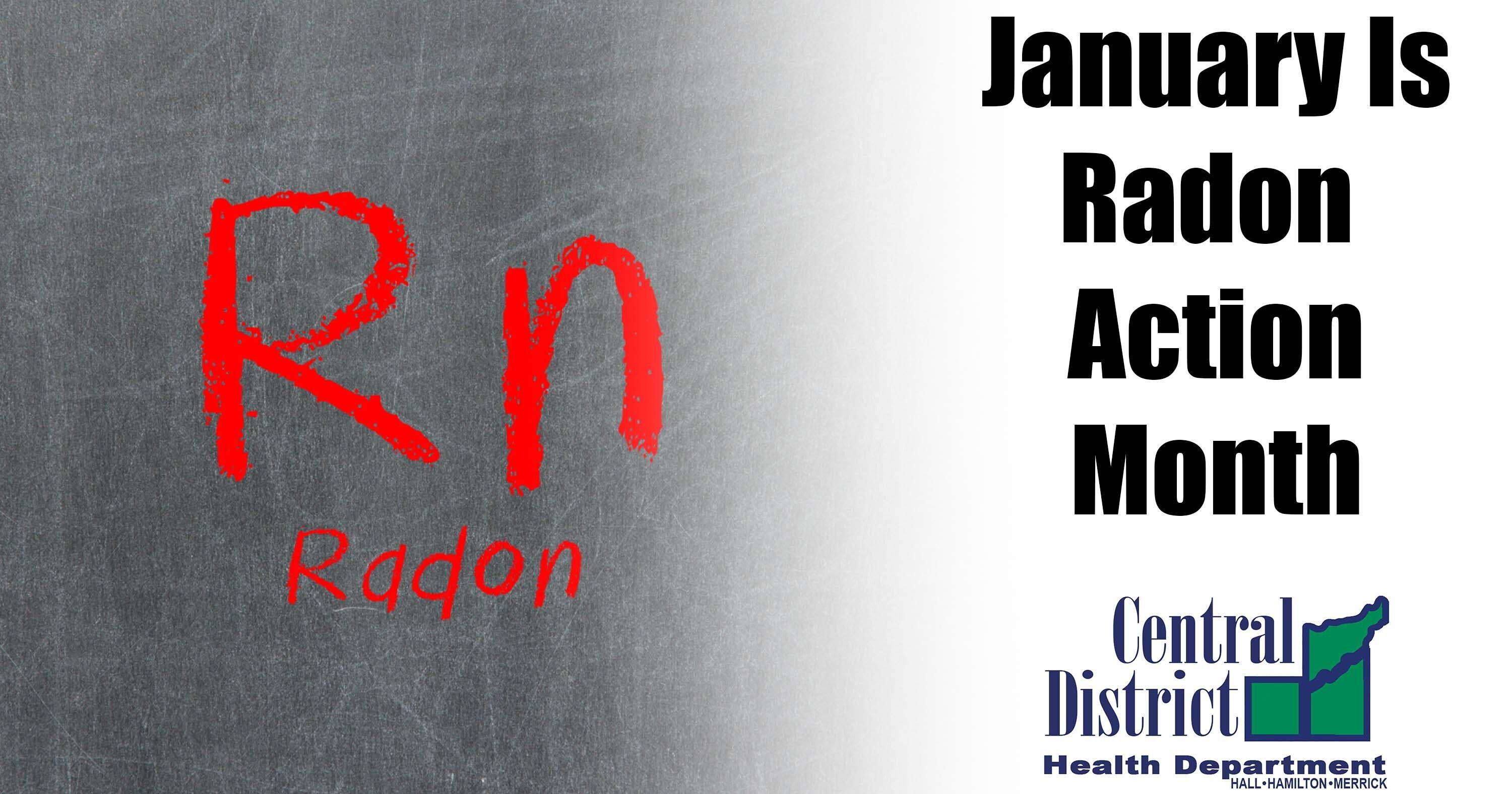 January is Radon Action Month, CDHD Offers Free Tests
Grand Island – In January, Central District Health Department is asking the public to be aware of Radon and take action to prevent negative effects to your health caused by this dangerous gas.
CDHD has received grant funding from the Nebraska Department of Health and Human Services to begin a radon awareness drive as part of the National Radon Action Month campaign.  Radon is a naturally occurring radioactive gas and has been identified as a leading cause of lung cancer, second only to cigarette smoking, in the United States. The EPA's most recent health risk assessment estimates that 21,000 lung cancer deaths each year are due to radon. Radon is a colorless odorless gas, you can't see, smell, or taste.
The only way to know whether you are exposed to Radon gas in your home is to test for it. CDHD has free radon test kits that can be picked up at our office located at 1137 South Locust Street in Grand Island. All tests include postage paid envelopes and free lab analysis.  Short-term detectors, which are used for 3-7 days, provide quick screening measurements, and indicate potential radon problems. 

Additionally, long-term detectors can be left in place for fourteen days to one year.  These kits provide the advantage of seasonal change which may impact radon levels.  Both detectors are usually placed in main living areas on the lowest level of the home.
Radon comes from the natural decay of uranium that is found in nearly all soils. It typically moves up through the ground to the air above and then into your home through cracks and other holes in the foundation. Your home traps radon inside, where it may build-up. Any home can have a radon problem. This means new and old homes, well-sealed and drafty homes, and homes with or without basements.
Children may be at an increased risk for health complications because their lungs are not fully developed and the sensitive tissues in their lungs are more vulnerable. Smokers, if exposed to radon, face a lung cancer risk 15 times greater than that of non-smokers.
Kits can be picked up free of charge at the Central District Health Department at 1137 S. Locust Street in Grand Island.  If you have any questions, please call 308-385-5175.
---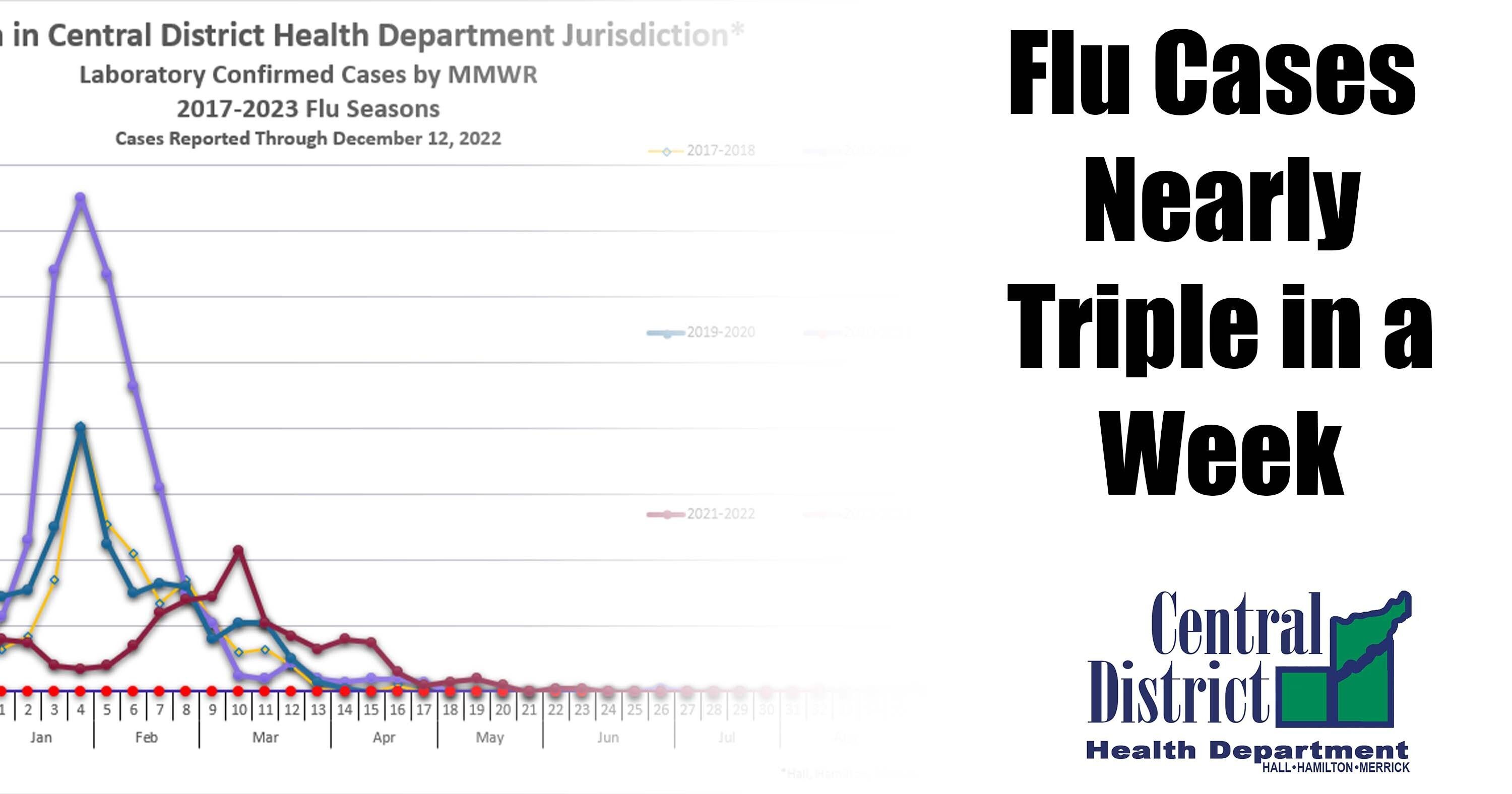 FLU CASES HAVE NEARLY TRIPLED IN A WEEK
CLICK HERE TO READ THE FULL REPORT BY THE NE DEPARTMENT OF HEALTH AND HUMAN SERVICES
Grand Island, NE – Lab confirmed cases of influenza have nearly tripled in a week in Hall, Hamilton and Merrick Counties, an alarming trend pointing toward one of the worst flu seasons in five years.
The first week in December saw lab confirmed flu cases jump from 40 to over 100. With only lab confirmed cases being counted, the number of flu cases in the Central District is likely much higher. By way of comparison, every year since 2017 there were fewer than 10 cases reported at this time of year. The peak of the flu season usually comes at the end of January. Last week's numbers are worse than any year's peak, with the exception of January of 2019.

"These numbers are pointing toward a severe flu season," Teresa Anderson, CDHD Health Director, said. "The good news is it appears this year's influenza vaccine is proving to be effective at protecting people from serious illness and hospitalization."

Flu symptoms usually come on suddenly and may include fever, chills, cough, sore throat, headaches, fatigue and muscle or body aches. While some people who get the flu experience mild symptoms and feel better in a few days, others may become very sick and require hospitalization. Those at the highest risk are those 65 and over and children younger than 2 years old.
The flu vaccine is one of the best ways to protect yourself from the worst effects of the flu. Flu shots are available at CDHD or local pharmacies at no out-of-pocket expense. The vaccine takes roughly two weeks to provide protection.

Other preventative actions include avoiding close contact with those who are sick, covering your nose and mouth with a tissue when you cough or sneeze, washing your hands often and staying home when you are sick to avoid passing the flu to others. All these efforts are going to be increasingly important as flu numbers continue to rise.
CDHD posts flu data at www.cdhd.ne.gov each week and on our social media. For more information, please call (308) 385-5175.
---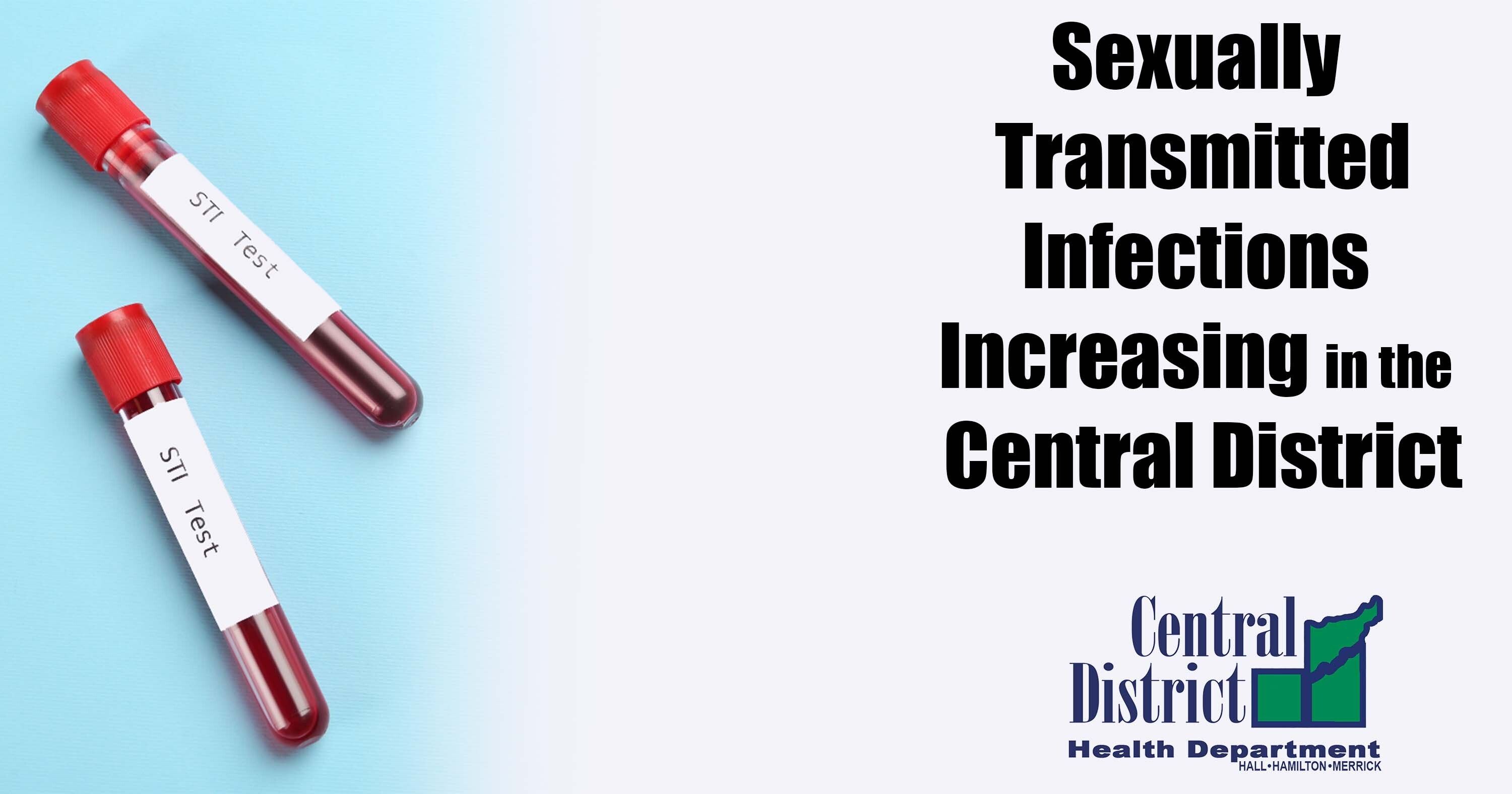 CDHD Seeing an Unwelcome Gift Over the Holiday Season
Grand Island, NE – The Central District Health Department has seen a significant increase in Sexually Transmitted Infections (STIs) over the past year in Hall, Hamilton and Merrick Counties.

So far this year 440 STI cases have been reported, which include gonorrhea, syphilis, HIV, and chlamydia. Currently at Central District, chlamydia remains our highest STI, accounting for over 300 of the 440 case we saw this past year. Chlamydia is a common STI whose symptoms can be mild but can cause permanent damage to a woman's reproductive system if left untreated.
STI's do not discriminate based on age, race or gender and anyone that is sexually active is at risk for contracting an STI. Over half of the new cases seen in the past year range from ages 15-24 years. Our goal is to minimize the spread and to increase awareness of the impact STI's have on the health and wellness in our community.

Tips for prevention Sexually Transmitted Infections include:
•Abstinence from sexual activity that spreads STIs.
•Use of Condoms (free condom kits are available to the public at CDHD)
•Know your partner and their sexual history (avoid social media sites for hookups)
•Get tested even without symptoms if you are sexually active make sexual health part of your regular checkups. 
If you've tested positive talk to your partner(s) so they can get tested and treated as well. If you test positive you will receive a call from our Disease Contact Investigators that will conduct contact tracing and provide information regarding treatment, partner notification, and referrals if needed. That is the only to stop the spread throughout our community.
STI testing is not available at the Health Department but you can find a testing referral page on our website, www.cdhd.ne.gov.

This year don't let an STI be the gift that keeps on giving. If you have any questions call the Disease Intervention Specialists at Central District Health Department, 308-385-5175.
---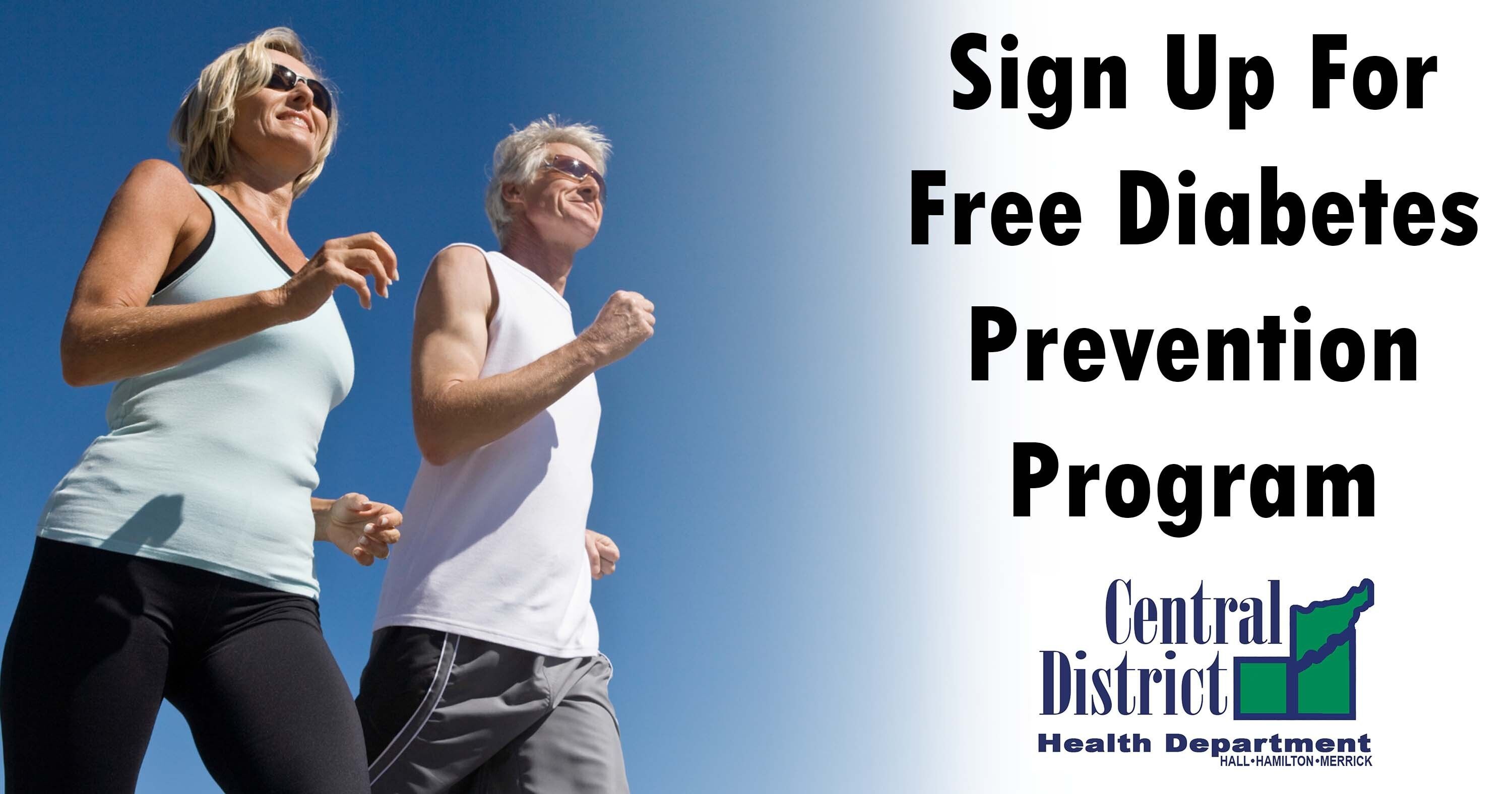 CDHD's First All Online Diabetes Prevention Program Starts January 16th
Grand Island, NE – CDHD is encouraging those at risk for Type 2 Diabetes to sign up for the first ever Diabetes Prevention Program to be hosted entirely online. Registration is now open, and the program starts the week of January 16th. There is no cost to sign up.
Type 2 diabetes used to be known as adult-onset diabetes, but both type 1 and type 2 diabetes can begin during childhood and adulthood. Type 2 is more common in older adults, but the increase in the number of children with obesity has led to more cases of type 2 diabetes in younger people.

According to the Center for Disease Control and Prevention, 1 in 10 Americans have diabetes or will develop it over their lifetime. More concerning is that among those millions of Americans, 1 in 5 do not know that they have developed Diabetes and many others  would be able to prevent Diabetes  by making different lifestyle choices. It is these choices that the Diabetes Prevention Program (DPP) seeks to influence through a proven curriculum, development of skills, and support from a community and trained lifestyle coaches.

CDHD has offered this class in the past, but by moving it online it allows participants to complete the course on their own time instead of attending meetings. There will be support from others in the group who have similar goals and are going through the same course.
Those who should consider signing up for this course include:
            •Those who are overweight.
            •Those who have a family history of Type 2 Diabetes.
            •Anyone wanting to increase their physical activity.
            •Mothers who experienced "gestational diabetes" when pregnant.
            •Those whose Health Care Provider has recommended the program.
If you have been diagnosed with "pre-diabetes" this class can give you all the information you need to make a positive change, stop you from developing diabetes, and even save money on medical bills.
To sign up, please visit www.cdhd.ne.gov or call us at (308) 385-5175.
---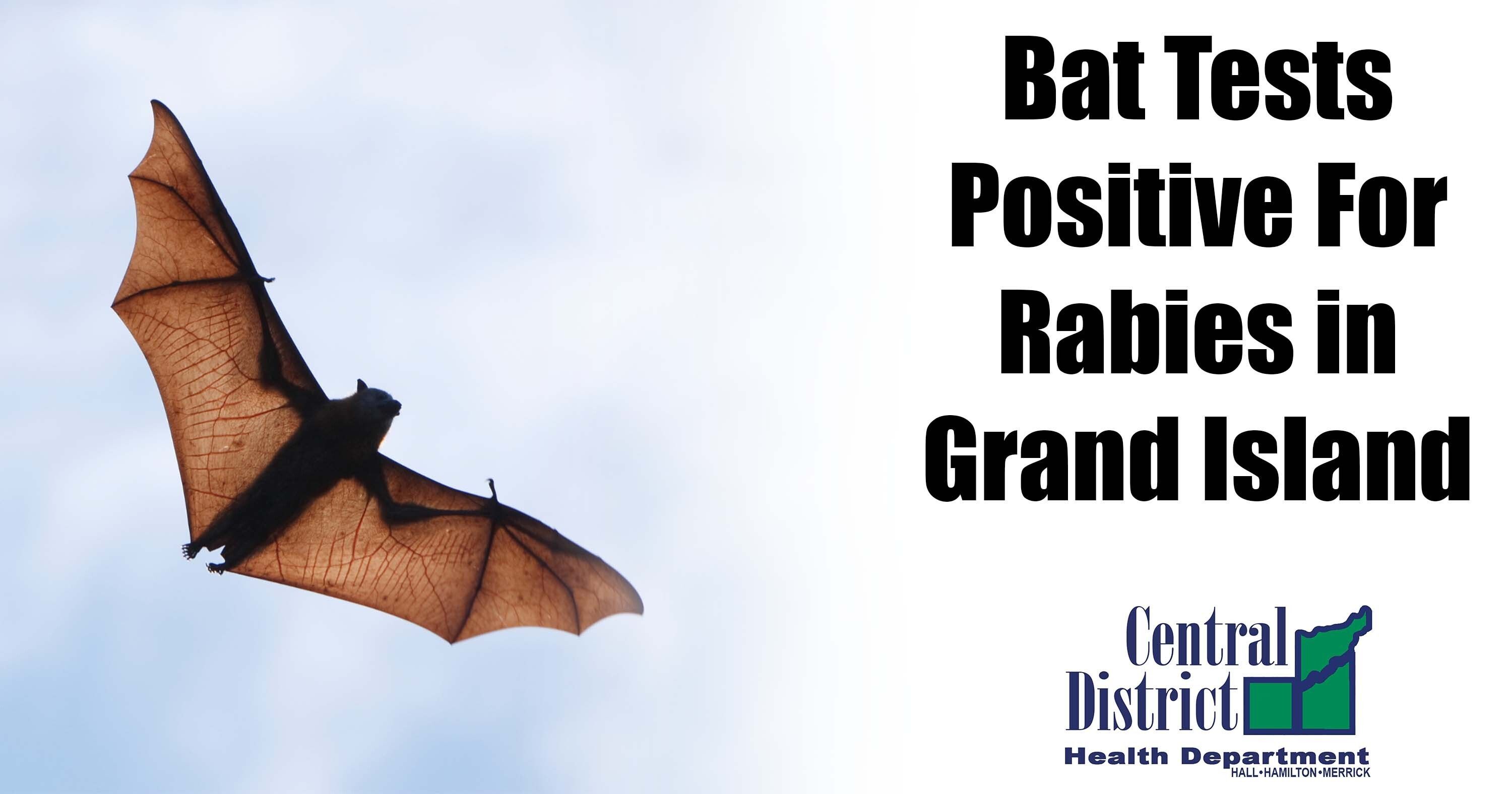 Bat in Hall County Test Positive For Rabies
Grand Island, NE – A bat tested positive for rabies last week in Grand Island, underlining the need for awareness of this extremely dangerous disease and for practicing care when coming into contact with wild animals.
No person is known to have come into contact with the infected animal found in Grand Island. The bat which tested positive is one of 20 animals (17 of which were bats) to test positive for rabies in Nebraska this year. This compares to 30 cases in 2021, which is the highest count in the last 5 years according to the Nebraska Department of Health and Human Services.
Rabies is a preventable viral disease most often transmitted through the bite of a rabid animal which attacks the central nervous system of animals causing disease in the brain which leads to death. While bats are the primary animal associated with rabies, other wild animals such as raccoons, skunks and foxes can be infected and spread the disease.
From the Center for Disease Control: "If you've been in contact with any wildlife or unfamiliar animals, particularly if you've been bitten or scratched, you should talk with a healthcare or public health professional to determine your risk for rabies or other illnesses. Wash any wounds immediately with soap and water and then plan to see a healthcare provider."
They add that bats can leave very small puncture marks that disappear quickly. If you are unsure if you've been bitten by a rabid bat, seek medical advice quickly. Treatment includes a series of shots that will protect you from developing symptoms of the disease.
CDHD and other public health agencies keep a close eye on rabies and encourage the public to educate themselves about this very serious disease. You can learn more about rabies at our website, www.cdhd.ne.gov. For more information, please call us at (308) 385-5175.
---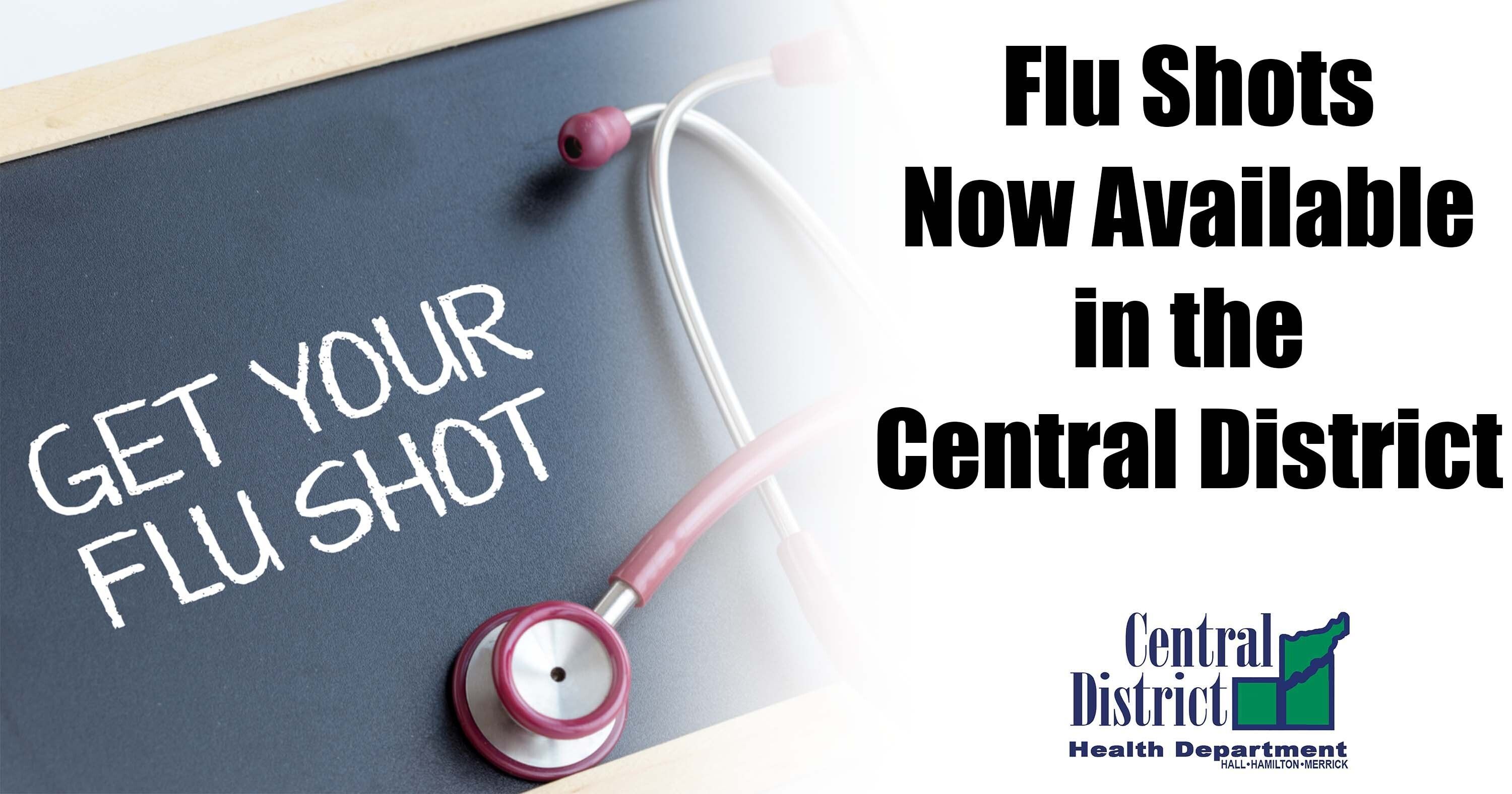 FLU SHOTS NOW AVAILABLE IN THE CENTRAL DISTRICT
Grand Island, NE – Flu shots have arrived at CDHD and we are encouraging everyone in the Central District to get ahead of this year's seasonal flu virus by getting vaccinated now.
Yearly flu shots are recommended by the Center for Disease Control for everyone 6 months and older. CDHD currently offers flu shots including high dose flu shots for those 65 and older each week day.
"It's not too early to start thinking about protection against influenza," Teresa Anderson, CDHD Health Director, said. "With some signs pointing toward a resurgence in flu cases this year, it's important to act now to protect yourself and your family."

Flu season in the United States is considered October through May. It typically reaches its peak in February, when the weather is cold, and most people have been inside and in close contact with others for longer periods of time. The CDC encourages the public to get vaccinated before flu begins spreading in the community, with everyone being vaccinated ideally by the end of October. It is recommended those 65 and older, who are most susceptible to becoming very sick from the flu, be vaccinated starting now.

The flu vaccine is reformulated each year to be effective against the strains of the virus predicted to be most prevalent. Most insurance plans provide flu shots at no cost to the consumer. Additionally, CDHD has vaccine to provide to those without insurance at no cost.
In addition to the flu vaccine, CDHD has also received shipments of COVID-19 bivalent booster vaccine that protects against both the initial strain and the currently circulating COVID-19 variant. It is acceptable to receive both vaccines at the same time.
CDHD is open from 8 am – 4:30 pm Mondays – Fridays with Thursday clinics running until 6 pm. CDHD now provides curbside vaccinations through front row handicap parking along with a phone number to call upon arrival. For more information or questions on the flu or COVID-19 vaccine and boosters, please call (308) 385-5175 or see our website, www.cdhd.ne.gov.
---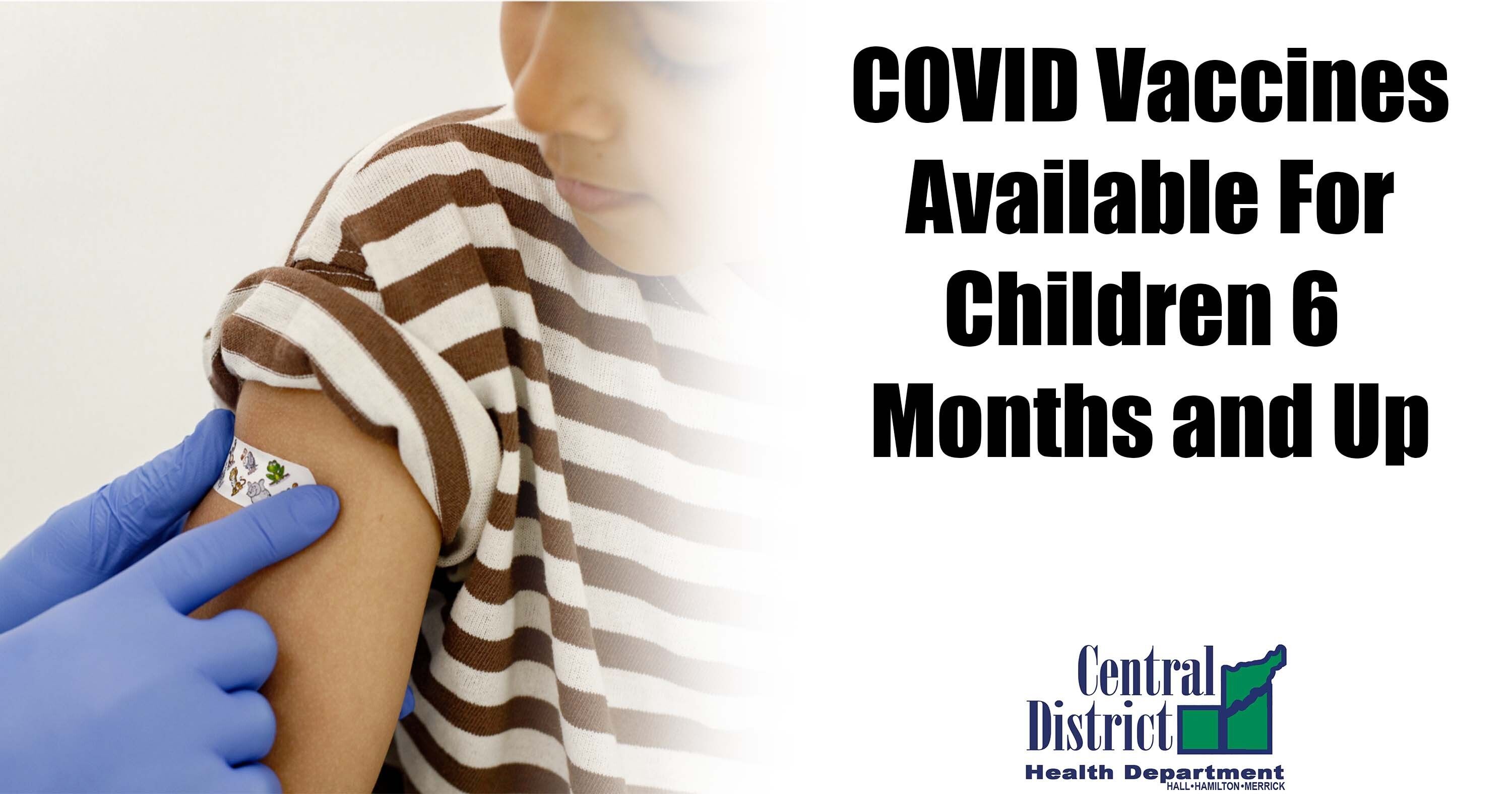 COVID-19 Vaccine Now Available For Children 6 Months And Up
Grand Island, NE – Children ages 6 months and up are now eligible for a COVID-19 vaccination after the Center for Disease Control and Prevention unanimously voted for an Emergency Use Authorization on Saturday. This change means that over 17 million children across the United States can now be protected against the worst symptoms of COVID-19.
Central District Health Department has received both Pfizer-BioNTech and Moderna vaccine for children as young as 6 months. The Pfizer vaccine is administered as a primary series of three doses, while the Moderna vaccine is a primary series of two doses.
"Many parents have been waiting for this news and we are glad to be able to provide vaccination for their children," Teresa Anderson, CDHD Health Director said. "We are here to answer questions from parents who are uncertain about these vaccines, and we encourage parents to talk to their child's health care provider about any concerns they may have." With COVID-19 numbers in our community rising recently, this news comes at a great time.
While COVID vaccines have been available for ages 5 and older for some time, the CDC and Food and Drug Administration spent considerable time and effort in evaluating both the effectiveness and the safety of these vaccines in very young children. The agencies analysis of the safety and effectiveness of the vaccines was rigorous and comprehensive. You can learn more about their research here.
Currently in the Central District, just over 50% the population has received one dose of the COVID-19 vaccine. It is the hope that with this authorization, parents will choose to protect their children from this virus and increase the vaccination rate in our area.
CDHD hosts vaccine clinics from 8 am – 4:30 pm Mondays – Fridays with Thursday clinics running until 6 pm. Nomi Health also offers COVID-19 testing from 8 am – 3 pm Mondays – Thursdays. Free at home COVID-19 tests are also available. For more information, please contact us at (308) 385-5175 or log onto www.cdhd.ne.gov.
---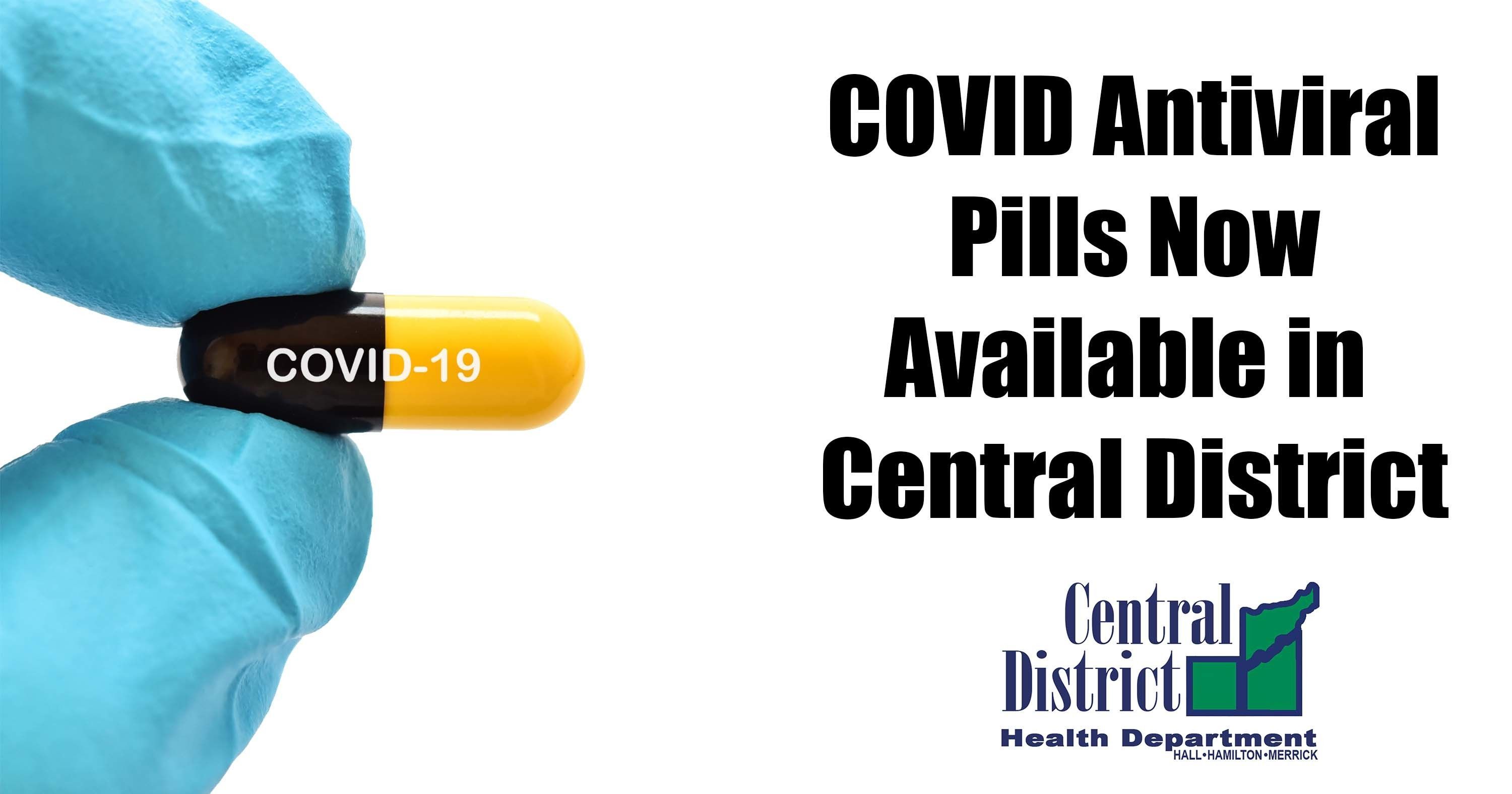 Grand Island, NE – Two new medications to treat COVID-19 have arrived in the Central District and are free with a prescription.to those who have tested positive for the virus.
Paxlovid from Pfizer and Molnupiravir from Merck have both been given Emergency Use Authorization status by the Food and Drug Administration for the treatment of COVID-19. If you have a positive COVID test and take either of these medications with in 5 days after you first notice symptoms, these medications can prevent some of the worst effects of the virus, including hospitalization and death. These medications are particularly aimed at those at higher risk for severe symptoms of COVID-19 and include two pills taken each day for 5 days.
These medications, which must be prescribed by a medical professional, are available to be filled at the following locations:

-Super Saver 5 Points in Grand Island
-U-Save 4th Street and U-Save North West in Grand Island
-Memorial Community Health Clinic in Aurora
-Merrick Medical in partnership with Jim's U-Save in Central City
These medications are free to the patient as part of a National program in response to the COVID-19 pandemic. If you test positive for COVID, please talk with your medical professional of choice to see if you could benefit from these medications.
While Paxlovid and Molnupiravir work well for those who have received a COVID-19 vaccine and those who have not, vaccination remains the best way to prevent becoming very sick with COVID-19. CDHD offers no cost COVID-19 vaccinations from 8 am – 4:30 pm Mondays – Fridays and until 6 pm on Thursdays. Nomi Health also offers COVID-19 testing from 8 am – 3 pm Mondays – Fridays and from 8 am – 11:30 am on Saturdays. For more information visit www.cdhd.ne.gov or call (308) 385-5175.